Abhinav Sharma's Secret To Success (IIM Sirmaur)
Anisha Mukhija
As we all know that every year lakhs of students take one of the toughest exams in India Common Admissions Test (CAT) with a dream to pursue their MBA the best B-schools of the country. But the secret of success is "Stop wishing Start doing". A year of disciplined, focused and strategic is all what to need to score 99+ percentile in CAT. CAT exam is the test of Time Management, Aptitude and Logical Thinking. Gauge yourself at every point of time and make the necessary improvements.
Just remember that TIME MANAGEMENT is the key here. Make a proper schedule and don't take stress from either your preparation or job. Let me guide you clearly that if you leave your job thinking that it will give you more time to prepare, then my friend you are living under the myth.
The way you handle the things in your preparation and at the day of exam is the deciding factor. Look within yourself and decide your timetable accordingly.Always focus on clearing your fundamental concepts instead of jumping from one topic to another. Acandidate can perform well in CAT by taking mock tests seriously and analysing them to learn about their mistakes and not to repeat them in future. Taking and analysing Mock tests play a very crucial role in polishing the basic concepts. Try to take around 2 mock tests per week, this will give you ample time to evaluate your strengths and weaknesses and to fine tune your strategy.
Always solvedifferent level of questions because easy questions demand quick solve and difficult questions demand strong concepts. The art of attempting the test is equally important to knowing the concepts and fundamentals. After-all it is all about picking the right questions in the exam.
One can join a coaching class and start working with a schedule and deadlines ready.it is definitely not mandatory, however, it would be helpful because it will provide you with a more disciplined approach. Because one has paid for the classes therefore you attend them or at least listen to the instructor and note down the basic concepts.
After all this, when you are nearing the day of CAT exam, just read a couple of daily newspapers and revise the fundamentals. Just relax and watch couple of good movies. Avoidany kind of stress and have the confidence in you.
About the author: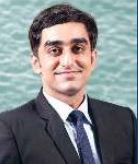 Abhinav Sharma is an Information Technology professional with a Bachelor of Technology (B.Tech.) focused in Electronics and Communication Engineering. He is currently pursuing PGP in Management from Indian Institute of Management, Sirmaur. His interests include trekking and travelling. In his free time, he loves to do theatre.