CAT 2015 Test Pattern: 3 sections, 100 questions, 180 minutes, on-screen calculator & direct-type-on-screen questions!
Anisha Mukhija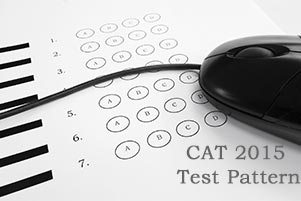 CAT 2015 test pattern has been with CAT 2015 Notification. CAT 2015 convenor Professor Tathagata Bandyopadhyay has said the exam will no more be skewed towards a particular set of candidates from a particular background.
And this is what CAT aspirants will get this year:
CAT test duration has been increased to 180 minutes instead of 170 minutes. There will be a total three sections:
| | | |
| --- | --- | --- |
| Section | Questions | Time |
| Quantitative Aptitude (QA) | 34 | 60 minutes |
| Data Interpretation & Logical Reasoning (DILR) | 32 | 60 minutes |
| Verbal and Reading Comprehension (VRC) | 34 | 60 minutes |
| Total | 100 | 180 |
Candidates will be allotted 60 minutes to answer questions in each section. Moreover, one cannot switch from one section to another while answering questions in a section."Some questions in each section may not be of multiple choice type. Instead, direct answers are to be typed on the screen. The tutorials will clearly explain this change. Also, we will allow use of basic on-screen calculator for computation," informed CAT 2015 authorities.
The tutorial / sample paper to understand the format of the examination will be available on the CAT website from October 15, 2015.
"Regarding the content part, one of our concerns is, score in Quant dominates the percentile rank in CAT. As a consequence it brings in skewness to the selection process towards a particular set of candidates from a particular background. This year we intend to address it by making some changes in the test content and also by rationalizing weights assigned to different components of the test. This we hope will create a level-playing field for all candidates, no matter what educational background they come from, and will remove skewness to a large extent that we referred to above. We believe such a move will help us identify candidates from varied backgrounds who will become future leaders in their chosen profession. Such a move will also help IIMs bring in greater diversity in the classrooms and will go a long way in enriching the learning experience," said Professor Bandyopadhyay.
Exam Mode
CAT 2015 will be held in computer-based format.
CAT Scoring Pattern
Till last year, candidates were awarded three (3) marks for every wrong answer, while one (1) mark was deducted for every wrong answer.
CAT Test Timings
Candidates have to attempt 100 questions in 180 minutes.
Comments