Life at NMIMS by Saumya Bansal
Rahul Singh
NMIMS, Mumbai offers MBA to over 700 students every year, with an option of choosing your specialization from Finance to Marketing to Operations to IT to HR. Apart from a wide range of subjects it also encompasses a number of student-run committees that conduct events at regular intervals, thus keeping the students engaged around the year. Read ahead to know more about life at NMIMS Mumbai.
Click here to kick start your NMAT 2021 preparation with the help of NMAT Toppers & NMIMS Alumni
Life at NMIMS.
During the first year, the classes start at 9:00 am, some lucky days maybe 10:45 am and run until 2 pm mostly. But trust me the day never ends there, you always have presentations to prepare, reports to make, study the new subjects from seniors, colleagues, pre-reads for the next day lectures and so much going on that if you are able to leave by 8 pm, you consider it a good day. Things pace down a little when you reach the second year depending on the subjects you choose.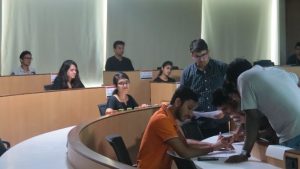 A typical day at NMIMS involves you running from one task to another but filled me so much learning and exposure that after two years when you step in the corporate world of long hours and multiple projects you will find yourself at ease. As the competition within the college in so huge because of the high number of students, it keeps you on your toes. The students are never at rest. They are always trying to learn more & achieve more to stay at the top of their game. Thus acquire a great amount of knowledge and skill set at the end of two years.
Also Check: How to crack NMAT
Nobody can choose right and wrong for you, we have to do that ourselves. If we have the vision of ourselves clear in place, we always pick on the things that lead us to or goal, for some, they come easily and for some have to struggle. NMIMS offers you a platform to develop and grow, to choose from a wide range of skillset. It is you at the end who has to decide what all to gather & make the most out of it.
All the best everyone!!!
Hope to see you on campus soon….:)
About the author
Saumya Bansal, born and brought up in Meerut. An engineer in Power System Engineering from UPES, Dehradun. Work experience of about two years at Luminous Power Technology Limited as a Project Manager. Currently pursuing an MBA at NMIMS.
If u want to get in touch
Email id – Saumyabansal07@gmail.com
Click here to take the Free NMAT mock test
Also Read: NMAT 2021 preparation strategy
Related Articles:
Life at NMIMS- Rajat Sukhija CATKing
Aishwarya Agarwal's preparation strategy for NMAT – key learnings