Life @ IIM Sirmaur by Abhinav Sharma
Anisha Mukhija
The day starts with the sight of beautiful mountains decorated with a trail of clouds. Being a nature lover, all my life I had only wondered about the beauty of nature. Here at IIM Sirmaur, the ever-changing weather just left me spellbound. "Why always the same story"? This campus is not like any other campus. Clear blue sky with snow-white clouds on some days, beautiful amber dusky on others, it was ever so different, just the way every day in college came with a new experience.
Secluded from the rest of the campus, it would host the gossip of close friends, overnight parties and the intimate moments of couples. As with all MBA colleges, we somewhere started getting lost amidst the routine of classes, assignments, quizzes, presentations, guest lectures and the activities of the various clubs and committees. The deadlines kept us perpetually sleep-deprived but excited. And in the process, I found a set of beautiful souls. The people who helped in studies, supported each other and the ones who always had your back; the friends who became family. Off course there are special ones too. The roller coaster of emotions is always there.
The people with whom days were spent working hard and nights were spent laughing at our inside jokes. Because of them, the first Term of my MBA was all the more fun and hopefully, the whole two years will lead to more memories. These 6 months of journey of mine is one of the best moments of my life. I had experienced everything; stress of studies, responsibility of being in clubs and committees, parties with friends and some special moments too ;). It is the place where friends open up to one another, sharing their sorrows and deepest fears. Here, at IIM Sirmaur, the Mechanical Workshop of the HIT campus is the favourite rendezvous for the students. I am living my dreams here with days are golden and nights being silver.
About the author: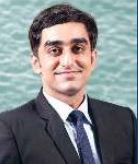 Abhinav Sharma is an Information Technology professional with a Bachelor of Technology (B.Tech.) focused in Electronics and Communication Engineering. He is currently pursuing PGP in Management from Indian Institute of Management, Sirmaur. His interests include trekking and travelling. In his free time, he loves to do theatre.