Life @ IIM Sirmaur by Amber Sahu
Anisha Mukhija
Coming from one of the highly dense city of the country, Varanasi to completely sereneone, Sirmaur is a whole new experience altogether. It all started with a mail from the Admission office of IIM Lucknow, congratulating me on my selection in IIM Sirmaur. I was euphoric not only because I would soon be a part of the IIM clan but also at the idea of staying in Himachal Pradesh for two years! As is usual, a chain of activities started, ranging from joining the whatsApp group to fulfilling the formalities of admission; from withdrawing admission from a previously decided institution to running for getting important document prepared, etc.
Upon reaching Paonta Sahib, I was thrilled by the atmosphere. The curvy mountains touched our campus on the bank of Yamuna. It gives us the opportunity to see rainbows every now and then.
My all dreamy imagery started fading away as soon as our classes started after induction program. All motivational address by professors, guests and director could not last long as the academic pressure started building up. I hardly got time to move around the city and enjoy local cuisines.
An average day at IIM Sirmaur looks like this:
08:00 AM
There goes the alarm. Oh! Someone please shut the alarm off. Will have to brush up that chapter on ratios for today's quiz. What better way to start the day off than grabbing a quick bite and rushing your way up to the library! Hope my number game is strong, won't get more than 10 minutes to go through it all!
09:00 AM
It's time for the first class. Where did I keep my case notes? Don't tell me I forgot it in the library last night!
12:30 PM (Lunch Break)
Boy, did that quiz not go as planned. Thank my lucky stars I covered some topics this morning. Let me check out the progress of the Marketing group project before attending the Guest Lecture at 03:00 PM. Thank God! I have my business formals ready for this industry interaction.
06:00 PM
Enough of number crunching for a day! Let's unwind. Hey Smasher! Where did you keep the shuttle? Guards' room, eh? Hurry up guys, have a submission tonight!
08:00 PM
I never knew, so many types of leadership exist. Where do I find an example for each? Oh God, the clock is ticking. Why was this submission scheduled at 9:00 PM instead of the usual 11:59:59!
09:00 PM
Phew! That was exhausting. Last minute submissions drain you a lot. I will make it a point to get the things done well ahead of time next time. It was a long day. Well, let's work on that case at around 12 tonight. Will that do?
10:00 PM
We have a big leadership summit lined up next month! Time for a quick MediaCommittee meeting. We were to finalize a hashtag for the event. What's the progress guys?
11:00 PM
Oh! We have the brand-recognition quiz today. Could not qualify last time! Will give my best shot today. The guys at Quizzar have worked hard for this one. It shows. Now I have seen that logo somewhere. What was it?
12:00 AM
Hi! I did go through the case yesterday. But I found it hard to wrap my head around the STP of the product. Let me check Kotler first before discussing it with Markaizen group.
01:00 AM
That was quite a case. Haa! Time for a quick break! Let's take a stroll at the back of the academic building.
02:00 AM
Let me see, what else we have now. Okay, let me work on the live project.
03:00 AM
Arrg! This is so not done! That took up a lot more time than I expected.
03:30 AM
Can't take it anymore. Time for some z's. Looking forward to the trip to Dehradun next Sunday.
So, it would be no surprise to say that each day of this campus starts with new struggle as well as a new hope to become more successful. The journey of this ride is definitely exhilarating and worth to bet on.
As the institute is in the early stage of its life, setting up each system in place from scratch, building the unique legacy which will be getting passed on to upcoming batches, imparts great learning curve and entrepreneurial spirit among the students.
Overall, the journey so far at IIM Sirmaur has been nonetheless exciting for me. Hopefully, I will cherish this journey after two years.
About the Author: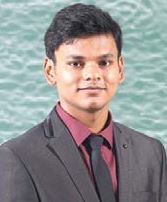 An active listener and learner, Amber is a consistent performer since the outset of his academic career. He got Academic Excellence Award for his remarkable performance in BBA. He cracked CAT in first attempt and secured admission in esteemed IIM Sirmaur. He has been carrying out his responsibility dutifully as an organizer, campus ambassador, volunteer and class prefect. He possesses impressive skill in Stock Trading, Drawing and Badminton as well.