MAKE IN INDIA
Rahul Singh
MAKE IN INDIA
As we know MAKE IN INDIA is a fresh initiative started by government of India to encourage companies to manufacture their products in india.it was officially launched on 25th September 2014.
The initiative hopes to attract capital and technological investment in India. So we feel that this topic can be asked in group discussions and personal interviews and it will also help you with general knowledge
India is on its way to become a Manufacturing Giant
The "Make in India" initiative is based on four pillars to boost not only entrepreneurship and manufacturing skills in India, but also in other sectors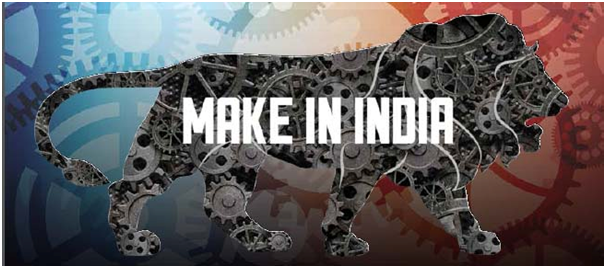 The 4 pillars are:
New Processes: 'Make in India' recognizes 'ease of doing business' as the single most important factor to promote entrepreneurship skills in India. A number of initiatives have already been undertaken to ease business environment. The main aim is to de-license and deregulate the industry during the entire life cycle of a business.
New Infrastructure: Availability of modern and facilitating infrastructure is an important requirement for the growth of industry. Government intends to develop industrial corridors and smart cities to provide infrastructure based on state-of-the-art technology with modern high-speed communication and integrated logistic arrangements. Existing infrastructure will be strengthened through upgradation of infrastructure in industrial clusters.
New Sectors: 'Make in India' has already identified 25 sectors in manufacturing, infrastructure and service activities and detailed information is being shared through interactive web-portal and professionally developed brochures
.
New Mindset: Industry is accustomed to see Government as a regulator. 'Make in India' intends to change this by bringing a paradigm shift in how Government interacts with industry. The Government will partner with industry in the economic development and growth of the country. Our approach will be that of a facilitator and not that of a regulator.
STATISTICS OF MAKE IN INDIA
In August 2014, the Cabinet of India allowed 49% foreign direct investment (FDI) in the defence sector and 100% in railways infrastructure.
The defence sector previously allowed 26% FDI and FDI was not allowed in railways.
This was in hope of bringing down the military imports of India. Earlier, one Indian company would have held the 51% stake, this was changed so that multiple companies could hold the 51%.
From September 2014 till November 2015, the government of India received ₹1.20 lakh crores worth of proposals from companies interested to invest in manufacturing electronics in India.[12]
24.8% of smartphones shipped in the country in the April-June quarter of 2015 were made in India, up from 19.9% the previous quarter
SECTORS
The following 25 sectors of the economy are mainly focussed by the make in india initiative:
Automobiles
Automobile Components
Aviation
Biotechnology
Chemicals
Construction
Defence manufacturing
Electrical Machinery Electronic systems
Food Processing
Information Technology and Business process management
Leather
Media and Entertainment
Mining
Oil and Gas
Pharmaceuticals
Ports and Shipping Railways
Renewable Energy
Roads and Highways
Space
Textiles and Garments
Thermal Power
Tourism and Hospitality
Wellness
100% FDI is permitted in all the above sectors, except for space (74%), defence (49%) and news media (26%)
CATKing's GDPI Management Development Program
Important Current Affairs : National Herald Case in 6 Simple Points
Current Affairs For October 2015
September 2015 Current Affairs