MET GDPI Experiences
Anisha Mukhija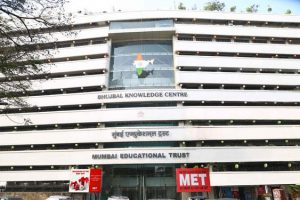 EXPERIENCE No.1
GD/PI Date: 31st MAY
GD/PI venue: MET'S INSTITUTE OF MANAGEMENT, BANDRA
Time: 12 – 1 PM
Batch No.: 14
WE WERE SUPPOSE TO BE 15 IN A BATCH BUT 3-4 WERE ABSENT.
GD TOPICS:
1. Should animals be used in drug testing & medicine testing?
2. Impact of economic reforms as being rich becoming richer n poor becoming poorer.
AS A MAJORITY WE CHOSE THE FIRST ONE i.e. should animals be used in drug testing n medicine testing?
THEN WE WERE GIVEN FEW MINS TO NOTE DOWN THE POINTS & THEN WE WERE ASKED TO START.
I WAS FULLY PREPARED TO START THE GD BUT SUDDENLY SOMEONE STARTED BY SHOUTING THIS IS OUR GD TOPIC AND WE NEED TO TALK ABOUT IT ( HE WAS A VERY WEIRD GUY WHO IS BEEN TRYING FOR AN MBA FROM THE PAST 12 YRS. ) THEN EVERYONE GAVE A BRIEF DESCRIPTION ABOUT IT…
THERE WAS A GUY FROM THE PHARMACY BACKGROUND AND WANTED TO TALK SINCE WHEN AND WHEN HE GOT THE CHANCE TO TALK HE WENT INTO THE IN-DEPTH KNOWLEDGE ABOUT THE TOPIC RATHER I WOULD SAY WAY AHEAD OF THE TOPIC THEN WHILE HE WAS SPEAKING SUDDENLY EVERYONE GOT BORED LISTENING TO THE TECHNICALITIES, I MEAN ABOUT HOW A DRUG IS PREPARED AND STUFF LIKE THAT.
THEN I SPOKE ABOUT SOME RULES BY THE GOVERNMENT AND THUS I WENT ON AND ON…
ONE THING I LEARNT WAS WE NEED TO GUIDE PEOPLE WHO ARE GOING ON THE WRONG TRACK AS THIS WILL HELP US GAIN A POINT AND WHEN I DID THIS I REALIZED THAT THE MODERATOR WAS QUITE HAPPY WITH THAT,
LATER IN THE END SINCE THE GD WAS NOT CONCLUDING THE MODERATOR HAD TO INTERFERE AND TOLD EVERY ONE TO CONCLUDE AND GAVE EACH ONE OF US 20 SECS TO CONCLUDE…..
THUS MY GD WAS NICE AS I FEEL THE MODERATOR WAS HAPPY WITH MY GD AND IN THE END APPRECIATED ME TOO
BUT BUT BUT………….
THE PI WAS SORT OF A VIVA ……
When I ENTERED THERE WERE 2 PANELISTS SITTING (MAN & LADY)
MAN: ARE YOU FROM BMS BACKGROUND?
I: YES SIR
MAN: DEFINE MANAGEMENT
I: PLAN ORGANIZE EXECUTE IN TIME AND IN BUDGET ETC ETC ETC…
MAN: UR FAVORITE SUBJECT?
I: (GOT NERVOUS AND SAID) PRODUCTIVITY AND QUALITY MGMT.
MAN: DO U KNW ABT SKU'S, SIX SIGMA, QUALITY CIRCLES?
I: YES SIR I DO KNOW ABOUT IT LIKE MORE ABOUT QUALITY CIRCLES.
MAN: TELL ME 5 SENTENCES ON QUALITY CIRLCES?
I: BLABBERED SOME THINGS ABT IT….
LADY: WHEN DID YOU DO YOUR JOB?
I: DURING MY BREAK AFTER MY 1ST YEAR…
LADY: ALL RIGHT, it's OK YOU CAN SEND THE NEXT PARTICIPANT IN.
AND I WAS SHOCKED TO SEE THAT IT HARDLY TOOK ME 1 MIN TO GO IN AND COME OUT
SO THIS WAS MY EXPERIENCE ABOUT MY GD/PI HOPE TO SEE MORE OF SUCH EXPERIENCES.
EXPERIENCE No. 2
Hi all,
My venue was MET, Bandra – A decent college and a very co-operative faculty.
The GD started with two topics:
1) Should India continue to pursue talks with Pakistan?
2) Are the principles of peace and non-violence still relevant?
We tried to had a little discussion for deciding on which topic to choose but only I was the one who contributed an opinion to which everybody agreed. Then, we then had a formal poll and select the first topic.
We were then provided 5 mins to jot down our points.
After the start signal was given, there was a long pause clearly showing people's hesitation to start with. I, therefore, grabbed this opportunity and started with the introduction went back to the history of Indo/Pak partition, Kargil wars and then came to the current scenario which was started under Atal Bihari Vajpayee's leadership. (one thing I noticed that I was allowed to speak for more than a minute and nobody was ready to take it further. I, therefore, concluded my statement saying that now let's take the topic forward by discussing the pros and cons of the talks between India and Pak..)
Finally one out of 8 of us, took it forward (don't remember what he said). A lady in the group (3rd speaker) simply wanted to show off her team spirit and was asking each other to speak up and give others a chance to speak when she herself hadn't mentioned a single point. Anyways. Meanwhile, I also tried to mention the problems faced by each nation and each others' niche areas which I guess these college freshers were least interested in.
People kept expressing their views but kept saying the same thing over and over again that the talks should continue w/o justifying why?
Then in the 5-6th minute, there erupted an until-now-silent-guy who took this stance of destroying Pakistan with nuclear bombs and weapons. People at least 3 at a time pounced on him because I guess everybody was waiting to get into a confrontation. They continued their war of words and created a fish market. The judges then warned them.
Experience No.3
Place: MET Bandra
Date:3rd June
Time:9:00AM
Batch:11
Reached the center by about 8:30 am. MET is near Lilavati Hospital so guys tell the rickshawala to drop there as mine didn't know about MET college. So entered and I was told to assemble in a room. Forms were given to fill. I thank you guys for early information about the form hence I was prepared with the answers. My suggestion for others would be to prepare these answers well in advance as it helps a lot. Specimen forms you can get from these sites. Anyway, we all were told to assemble in a room where chairs were arranged in a semicircular position. The panelist then entered. In all three of them. One oldie(nearing retirement I think), other was a lady and a guy both in their mid-30s.
Group Discussion
Topics were given.
1)Yesterday's wars were fought for supremacy, tomorrows war will be fought for market share.
2)One does not need an MBA to pursue a successful career in management.
All of us unanimously voted for the second topic(the first was a bit too long I think)We were given three minutes to jot down our thoughts a then were asked to begin. I wanted to start but couldn't as a girl started before me. The GD was excellent. Better than I expected as I had heard that most of the other GDS were fishmarket. It was a healthy discussion. Everyone was given a chance to others to speak except for one girl who didn't want to give chance to anyone. The girl in the blue shirt(if she is reading this), in GD team behavior matters hence I had to cut her to make my point. But credit to her as she was thoroughly prepared and presented good points. I pitched in 5 times. Made some valid points the GD were at a time dominated by three of us. The panelist then stopped all of us then asked us to conclude the topic.
They were divided into groups and were asked to wait until we were called for the interview. Being the first one in the group I was called first in the group.
Personal Interview
The panelist P1 was a woman in her forties and a guy in his thirties.
P1: Why do you want to do an MBA(so soon I had expected this question but not so soon) I gave the answer as was prepared with it.
P2: Which field do you want to specialize in?
Ans: HR
P2: What qualities should the HR manager have. I told but then she said the very mentioned qualities are your weak points (Had mentioned it in the form) I corrected her by saying that it was a weak point but now I am working on it and also stated an example how I countered the very weak point.
P2: How can your Degree in Chemistry (I am a Chemistry graduate) help you with these………I answered.
P2: If you have a conflict between your workers and management whose side will you take…. I answered who is right to which she said there is no right or wrong in this world (Big thing)then I corrected my answer and I think I was successful in explaining her.
P1: (After a long gap )Asked what do you think will be thought in an HR MBA course.
I was prepared with the answer
P1: Name three women presidents of some countries
I could not recollect the name of German chancellor….
P1: Name the youngest minister recently inducted in the cabinet
Knew it by heart
Then I was asked to leave. No graduation related question. No work related question not even GK questions.STRANGE.
Then I came out and went to verify my documents as MET is an ARC center for verifying documents. I would urge you guys who have their GD & PI here in future to bring the originals and one photocopy each of
1)Postal Receipt of form
2)10th mark sheet
3)12th mark sheet
4)Graduation mark sheet
5)Graduation passing certificate
6)Nationality certificate (Domicile or school or college leaving certificate where nationality as Indian is mentioned)
You are not required to present these during GD or PI But you can verify these documents here in these visit itself and save a second visit.
Read 12 B-Schools With The Best Return On Investment In India