Online Coaching for CAT
Sachin Bagi
CAT Online Coaching
Common Admission Test or commonly known as CAT exam is one of the most important entrance exam for getting admit into 20 IIMs and other top B-schools in India. Around 2 lakhs aspirants appear for the exam every year and compete to get into their preferred B – school. These aspirants go through a rigorous preparation cycle and attempt the exam. Many aspirants go to either coaching or study on their own. People going opting for coaching mainly go for offline classroom coaching, but now a days due to time constraint and working professionals opt for online coaching which is offered by many coaching centers now a days. In this article let us analyze about the online coaching for CAT and how does it help in your preparation for exams.
Also Refer: When to start preparing for CAT
The questions in the CAT are designed in such a way that each question requires deep understanding of the theory and the concepts. For all the three sections of the CAT thorough understanding of the concepts is required. So in order to put in under one umbrella, every aspirant in order to excel in the exam needs proper mentoring from experts. Hence in order to fulfill the needs of the students, understanding their constraints of the aspirants various coaching centers are offering online coaching.
Online platforms have played an important role in preparing the students. These platforms are just the substitutes of the conventional classroom coaching. While preparing for CAT and other management exams there should be someone who is able to guide you throughout your preparation stage for these exams. Online coaching gives you complete package as that of the offline classroom coaching. Online coaching consists of the set of video tutorials which includes videos of all the topics of all the three sections. These videos are the explanations of all the concepts in details, solved examples, mock tests, analysis of mock tests by expert faculties and previous year solved CAT question paper videos also. These videos can be watched anytime in a day at your convenience which is greatest advantage for aspirants who cannot attend classroom coaching. You can watch these videos as many times as possible. There will be mentor assigned to you who will be able to clear your doubts online. In a nutshell, you can prepare for the entrance exams at your convenience and for working professionals this is the best medium for preparation who do not have time to attend regular classroom coaching.
Also Read:  Online CAT Courses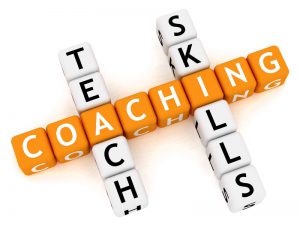 Let us discuss about the advantages and disadvantages of online coaching:
Advantages of online coaching:
Online coaching for the entrance exams will always help you to keep motivated and achieve your goal of cracking the exams. These online coaching help you to complete your syllabus well in advance because all the set of videos are loaded and given to you well in advance. You need not wait for a teacher to complete the syllabus. It will help you to speed up your preparation and be ready for the exam well in advance.
If you are packed up with a busy schedule and don't have time to attend classroom coaching then online coaching is the solution for all your problems. Mainly working professionals who are preparing for CAT and other management entrance exams can opt for this type of coaching. This fulfills all their needs and be on par with the students who go for classroom coaching.
This online coaching will also help in personal growth because you will explore new ways to perform tasks and get yourself trained for the entrance exams. This is basically getting acquainted to the change management of this era and getting yourself trained for one of the toughest exam you will be appearing and for getting a seat in your preferred B schools.
Also read: Things you need to know before starting CAT preparation
Disadvantages of Online Coaching:
The main disadvantage of online coaching is you cannot build relationship with anyone who is training you for these exams. You cannot build a personal rapport with the faculties. If you interact with someone face to face then you can explain him properly your doubts and the other person with your body language and flow can better understand your problem. This cannot be achieved by online coaching.
There can be a delay in your preparation if you are not disciplined for your preparation. Classroom coaching have fixed timings and you attend those at that timings but online coaching if you are not disciplined then you procrastinate your coaching and ultimately you lag in your preparations.
No motivation by coaching through online. In classroom coaching you have an faculty who gives motivational talk and keeps you motivated for your preparation, but online coaching are monotonous and can demotivate you sometimes.
Whatever the mode of coaching you are undergoing, the key to success is your discipline and your dedication. This can only drive you and help you excel and help you to get a seat in your preferred B school.
Be motivated and dedicated and work hard to excel!!!!