Preparation Tips for NPAT
Anisha Mukhija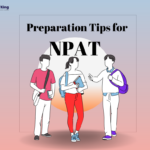 NPAT (The NMIMS Programs after Twelfth) is a national-level entrance exam that is conducted every year by Narsee Monjee Institute of Management Studies (NMIMS). It is an online exam that is conducted for admission to various undergraduate programs in fields such as engineering, management, commerce, finance, and design. Preparing for the NPAT exam requires dedication, focus, and proper planning. Here are some tips that can help you prepare for the NPAT exam.
Understand the Exam Pattern and Syllabus:
The first step in preparing for the NPAT exam is to understand its exam pattern and syllabus. The exam comprises three sections: Quantitative and Numerical Ability, Reasoning and General Intelligence, and Proficiency in English Language. Students must have a good understanding of the syllabus for each section, including the topics that are covered, the level of difficulty, and the weightage of each topic.
Once you understand the exam pattern and syllabus, it is essential to create a study plan that is tailored to your needs. A study plan will help you organize your time and efforts efficiently, and ensure that you cover all the topics before the exam. You can create a daily, weekly or monthly study plan, depending on your schedule and availability.
Practice Time Management:
Time management is a crucial aspect of preparing for any exam. In the NPAT exam, students are given 120 minutes to answer 120 questions. This means that you have only one minute to answer each question. Therefore, it is essential to practice time management techniques, such as dividing your time equally between the sections, answering the easy questions first, and skipping the difficult questions to answer them later.
Solve Previous Year Question Papers:
Solving previous year question papers is an excellent way to prepare for the NPAT exam. It can help you understand the exam pattern, the type of questions that are asked, and the level of difficulty. You can download the previous year question papers from the official website or purchase them from bookstores.
Taking online mock tests can help you assess your preparation level, identify your strengths and weaknesses, and improve your speed and accuracy. There are several online mock tests available that simulate the NPAT exam environment, and provide instant feedback on your performance.
Identifying your weak areas and focusing on them is an essential part of exam preparation. Once you have taken a few mock tests, you can analyze your performance and identify the topics or sections where you need improvement. You can then focus on these areas by practicing more questions, revising the concepts, and seeking help from your teachers or mentors.
Revision is crucial for retaining the concepts and formulas that you have learned. It is essential to revise regularly, especially the topics that you find challenging. You can create revision notes, flashcards, or mind maps to help you revise quickly and effectively.
Lastly, it is crucial to stay calm and confident during the exam. Anxiety and nervousness can affect your performance, so it is essential to take care of your physical and mental health. You can practice relaxation techniques such as deep breathing, meditation, or yoga, to help you stay calm and focused during the exam.
Also Read: https://catking.in/why-you-should-consider-taking-the-npat-exam/