SP Jain Application Forms Out!
Anisha Mukhija

Application Process Starts: September 21st
Application processing fee is Rs.1,200/- (Rupees Twelve Hundred only). This fee can be paid through credit card or net banking.
Two choices in Specialisation at the Application Stage: Each applicant has to opt for 2 specializations at the onset. The programme offers four specializations – Finance, Information Management, Marketing, Operations.
Last Date for Application: December 7, 2015
The program will admit a total of 240 participants. Additionally, 36 seats are available for PIOs, OCIs and foreign nationals.
Link to Apply: https://spjimr-pgdm.formistry.com/
Eligibility
To be eligible, an applicant has to have a Bachelor's degree or equivalent (10+2+3) from a recognised university. Students in the final year of graduation can also apply. SPJIMR accepts CAT 2015, XAT 2016 or GMAT (test taken from January 2013 onwards to 15th December 2015) as well.
Application Process Stages:
Shortlist of candidates for the Group Interviews
The candidates are shortlisted on the basis of their profiles.
They are also expected to meet the qualifying criteria in at least one of the entrance exams as indicated below:
| | | | |
| --- | --- | --- | --- |
| Qualifying criteria | CAT 2015 | XAT 2016 | GMAT (Tests taken between 1st January 2013 and 15th Dec 2015) |
| Overall Qualifying Score | 85 percentile | 85 percentile | 650 |
| Sectional Qualifying Score | 70 percentile | 70 percentile | N.A. |
The profiles are scored and the applicants are sorted into two groups corresponding to two phases of interviews.
First Phase Shortlists / Early Interviews
Applicants placed in the first phase of this shortlist are called for an early interview based on their profile where the following factors are considered
Consistency of academic record
Relevance of work experience for the specialisation
Versatility & Achievements
Shortlists at this early stage provide an opportunity to the applicants to go through the interview process early. This is convenient for students because it avoids overlapping with other interview calls during the admissions season. For the Institute, it affords the opportunity to stagger interviews and ensure that the interview process remains robust even though numbers being interviewed is large.
Second Phase Shortlists
This phase is held after the availability of entrance test scores. Applicants in this phase are called for interviews based on their profiles as given above along with their performance in the entrance tests. This interview call is thus a combination of profile and performance in the entrance tests.
Final Merit List
Merit List is based on a composite score, which takes into account the candidate's academic record, entrance test scores (CAT/XAT/GMAT), relevance of work experience(if any) and performance in the two rounds of group interviews.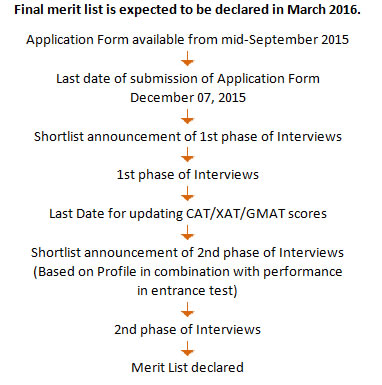 What they look for ?
1. Academic Excellence (If you have 10 th and 12 th both above – 80 percent it's an added advantage)
2. Co Curricular and Extra Curricular achievements ( School / District / National level )
3. NGO experience is also good.
4. Professional development demonstrating leadership qualities
Even if you have one of those points ( 1,2,3,4 ) fill up The forms.
To know more on the process and how to build your profile for a Profile Based Call get in touch with our centres and meet Alums of SP Jain
Borivali 9029077114
Andheri 8422982121
Powai 09619160261
Pune 08149774534
For more keep following our blog: https://catking.in/blog/
Comments