CAT Strategy by Abhinav Sharma (IIM Sirmaur)
Anisha Mukhija
First of all, please don't treat this exam comprising of only basic aptitude questions. CAT, due to its format and no. of applicants, is considered one of the toughest exams in India to score good percentile. One can refer some good CAT Strategy tutorials to get more expert advice on it.
Be persistent in the preparation from the first day till the last day. Make proper Study Plan and read all the subjects every day. Introspect about the weak subjects/topics and then plan the things accordingly. People usually study what they like in the start, but this approach is not good. One should first study what is considered to be the weak topics.
Choice of study material is also important as success comes when hard work meets the smart work. Some books have very difficult questions and that are worthless. One can subscribe to a good combination of Books & Mocks which will add value to the preparation.
One should also take test after building the fundamentals because unless we gauge our preparation with the help of Mock Tests, we will not be able to improve which affects our performance at the time of CAT exam.
Try to get knowledge of the syllabus by going through past year's papers and official guidelines. CAT can be segmented into four broad parts-
Quantitative Ability
Data Interpretation
Logical Reasoning
Verbal Ability
First of all, the choice of study material is really important. Quant. Books of Arun Sharma & Sarvesh Varma are really helpful. Referring any of these books will work but don't try to read both the books. Buy any one of them and solve it thoroughly. There are both easy and difficult questions in these books. Equal importance should be given to every type of question because easy questions demand quick solve and difficult questions demand strong concepts.
There is no need to buy any book for DI-LR. When we join any coaching institute, then they will give enough material which can prove highly beneficial if we solve them. However, one can refer to some books on these topics after finishing the entire syllabus.
"Word Power made Easy" by Norman Lewis is a good book for verbal. There are no clear-cut formulas in Verbal as compared to quant. These days, it is more of a general English exam which tests one's command over English in common usage. One should be very much familiar with English. Basically it all depends upon the comprehension power and grammatical skills. One should read as much as you can because this is the easiest way in which we get exposed to standard English, correct constructions and complex sentences. First start reading whatever one likes e.g. if one is comfortable in reading entertainment news, start reading entertainment news. But we should start expanding your horizon when we get comfortable in reading. Build the speed and grasping power. One should be able to retain as much as you can in one go. This habit saves a lot of time.
If possible referring to past CAT Papers once your course gets complete. Enrol to some good coaching institute. Try visiting there and then take the decision. A good coaching will help to maintain a proper pace in the preparation and they offer good Test Series too.
For subsequent rounds, be acquaint with Current Affairs and WAT topics . Give utmost importance to reading all the happenings in Economics especially Indian Economy. Try reading newspaper everyday and downloading some good news apps in your mobile phone, these things really help. Have basic understanding of the dynamics of corporate world. Reading good business magazines can be a good practice.
About the author: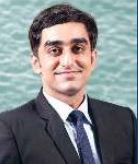 Abhinav Sharma is an Information Technology professional with a Bachelor of Technology (B.Tech.) focused in Electronics and Communication Engineering. He is currently pursuing PGP in Management from Indian Institute of Management, Sirmaur. His interests include trekking and travelling. In his free time, he loves to do theatre.