How to manage CAT preparation while working?
Anisha Mukhija
CAT preparation while working- How to manage? 
Should I take a drop for CAT preparation or should I continue with my job? Or maybe look for some part-time job or should I only focus on my CAT preparation? Should I join a full-time course for preparing MBA or should I just join the test series? Let's find out is CAT preparation while working a good idea.
Put your hands on your heart and ask yourself whether you have ever faced this dilemma. Almost more than 90 percent of students who are cat aspirants for
CAT
 or those who have already given CAT before must have been through this phase in their journey of CAT preparation. All those who have been successful in cracking CAT must have done justice with this decision. Honestly, this is the decision that will decide the overall outcome of your success in CAT. If all this is true then we must spend some of our precious time thinking about what needs to be done in order to get out of this dilemma.
Must Read: Cracking the CAT exam
CAT preparation while working: Is it a Good Idea?
Before Deciding what needs to be done in such an awkward situation, we need to understand what do we really want in our life. After deciding what you really want in your life, you must give priority to things that may help you in reaching your desired goal.
Doing your job and living a comfortable life can be an ideal situation for someone, but for those who want to come out of their comfort zone and want to do be a leader, you may prefer to join top b-schools by cracking CAT exam. Some people may feel content with their job field or sector they are part of, or the type of work they are doing, whereas some people may want to get exposure to other fields and want to do something creative. Some people like to work with the best company, whereas some want to give jobs to people. If you are anywhere in the second category, then cracking CAT and joining a top b-school is what you are looking for.
Must Read: How to crack IIM
After giving priority and deciding what needs to be done, the second question of "how to achieve your goal" would haunt you again. However, now you are at least sure of what you should aim for, and therefore planning would become much easier. You would now be in a position to prioritize your tasks by giving each one of them some weightage. Anything which is related to your CAT Exam preparation will have higher weightage than anything which takes your out of it. Life becomes easy once you know what needs to be done and what's the purpose of doing it.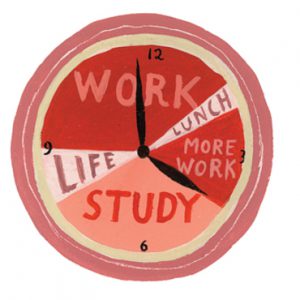 Still, many will argue that the question remains the same, which is "what needs to be done after setting your goal". Should I leave my job and continue with my CAT preparation, Should I do a part-time job and continue doing CAT preparation, or should I just join a test series without joining a full-time course program for CAT. There is no specific answer which can fit for all of us. People who are freshers would want to have some work ex prior to joining B-schools, and those with work ex may think of taking leave from their job and start preparing for their CAT exams.
Free CAT study material
Give a mock test and find out where you stand
Must Read: CAT Exam Pattern
Doing something is always better than sitting idle. The human mind is just like a machine that rusts when not used for a longer time. Therefore taking a drop and sitting at home for a time period more than enough to prepare CAT. This would be labeled as wastage of the Human Mind. So, before making such decisions regarding CAT preparation. First of all, a student must know where he stands in the competition by giving a Mock paper. This will help students to analyze how much more effort needs to be put in your preparations. After you decide the amount of effort or hours you need to put, taking decisions will become much easier.
Taking a drop from your job and working more than what is necessary is a poor decision. Similarly doing your job without taking leaves to put the extra effort required. In order to crack CAT may also turn out to be a poor decision. Therefore, each and every decision that you make should rely on the optimum hours of effort. That is the necessary effort to crack CAT. So as to get into your desired B school.
Related links: