Top MBA colleges with International Exposure
Anisha Mukhija
Top MBA colleges with International Exposure
MBA admissions officers look for candidates with international experience because it shows that they have international exposure and are capable of thinking from a global perspective. An MBA program made up of students with different international experiences also makes for a better and more diverse classroom experience. Read on to learn how to showcase your international experience on your MBA application, as well as how to gain more international experience. Get all information related to admissions, fees, courses, placements, reviews & more on Top MBA Colleges with International Exposure to help you decide which college you should be targeting for MBA/PGDM in International Business admissions in India.
For preparation with experts join our courses
While an international experience is not a requirement for admission into the top MBA programs, it will definitely help your application. Most MBA applicants have some sort of international experience — either through travel or work — so showing that you have international experience will help you stay competitive with other applicants. Travel and international work experience also provide great material for MBA essays. If you are an international MBA applicant, it is even more important for you to demonstrate your international experience. The MBA admissions committee needs to make sure that you will be able to survive to live in the US for the duration of your MBA program.
Also read: CMAT vs CET
International work experience will show the admissions committee that you are able to adjust to other cultures and work with a diverse group of classmates — skills you'll need in order to attend business school in another country. The first step in demonstrating your international experience is to take inventory of your experiences traveling abroad and working with people in other countries. Even if you've never worked outside of your home country, you may still have international work experience. Have you ever trained an employee who works overseas or collaborated with co-workers in another country? That counts as an international experience.
Look back on your work and personal experience to see how you have interacted with people from other countries. If you find that you do not have any international experience, don't worry. Lack of international experience won't necessarily bar you from getting into an MBA program. You also have some options: using the MBA essay to explain your lack of international experience or traveling to get international experience. If you choose to go the essay route, explain how an MBA will help you gain the international experience you need to achieve your goals. If you are interested in gaining more international experience through traveling abroad, try to go on a trip that involves volunteering or education instead of just sightseeing. This will make a stronger case to the admissions committee that you are globally-minded and able to work with people from other cultures.
Here are some colleges that provide international experience:
SDA Bocconi Asia Center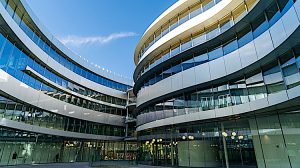 Course Duration: 2 years
Course Fees: INR 18.6L
Every year SDA Bocconi Asia Center offers different courses, for a commitment that revolutionizes personal and professional life. Different types of programs, to respond to different personal and professional needs, choosing the training most in line with your career path. The IMB (The International Master in Business) offered by SDA Bocconi at the Asia Center. . SDA Bocconi School of Management is currently ranked 3rd Business School in Europe by Financial Times and holds the Triple Crown Accreditation – AACSB, AMBA, and EQUIS.The selection process is based on holistic profile evaluation including academic consistency, test scores (CAT/NMAT/GMAT/GRE/Bocconi Test), performance in the personal interview.
IMB program is built with a combination of solid theory, case-study methodology, international experiences, and corporate exposure. It is specifically designed to create responsible, reliable, and effective business leaders. It comprises of two 11-month modules. A distinctive feature of the (IMB) International Master in Business a full-time Post-Graduate Program, the opportunity to spend a semester at Bocconi University in Milano, Italy. It allows students to specialize while offering the experience, the international outlook, and the multicultural environment essential for a successful career in a global economy. Upon completion of the program, participants are awarded a Master Diploma by SDA Bocconi School of Management in Italy.
S.P. Jain Institute of Management and Research
Course duration: Full time 2 years
Fees: (INR) 16 Lakh
Exams Required (Cut-off)
CAT (85 %ile) XAT (80 %ile)
NMAT by GMAC (65 %ile)
GMAT (500 marks)
MAT (550 marks)
SPJIMR is the leading school of management in the heart of India's financial center of Mumbai. They were inaugurated in 1981 by the then British Prime Minister, the Rt. Hon. Margaret Thatcher, and have grown over the years to be recognized as one of the top 10 business schools in India. They are a part of the Bharatiya Vidya Bhavan and function as an autonomous Institute with entrepreneurial agility. Their mission is to influence practice and promote value-based growth. They are built on this mission through pedagogic innovations and pioneering programs, which have helped them stand out for our unique and distinctive path in management education. SPJIMR has acquired the reputation of meeting the societal needs of under-managed sectors by offering unique, purposeful, and relevant initiatives. This ensures self-financing, personal freedom with professional accountability, and a corporatized culture. More than 1,000 participants from diverse backgrounds are enrolled at any given time across a range of management programs offered by SPJIMR. In recent months, SPJIMR has enhanced student-faculty connect, launched Design Thinking across all programs, accelerated faculty development, and stepped up engagement with alumni, corporates, and other stakeholders. Their two-year, full-time MBA equivalent Post Graduate Diploma in Management (PGDM), the 15-month full-time Post Graduate Programme in Management (PGPM) and full-time doctoral program, Fellow Programme in Management (FPM) are approved by the All India Council for Technical Education (AICTE). Their PGDM, PGPM, Post Graduate Executive Management Programme (PGEMP), and Post Graduate Family Managed Business program (PGP-FMB) are accredited by the Association of MBAs (AMBA), UK. Their PGDM program is also accredited by the National Board of Accreditations (NBA). SPJIMR has now established a center in Delhi with a focus on Executive Education.
Also read: MBA Colleges with Best ROI
SP Jain School of Global Management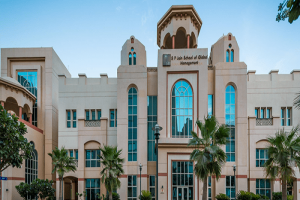 SP Jain School of Global Management is a futuristic business school that provides relevant and practical global business education. With campuses in the leading business hubs of Dubai, Mumbai, Singapore, and Sydney, SP Jain Global is renowned for pioneering and offering the world's first tri-city undergraduate and postgraduate programs. For its flagship Global MBA program, the School has been ranked by reputed international publications such as Forbes, Times Higher Education-Wall Street Journal, Nielsen, Global Brands, Financial Times, and The Economist. Globally intelligent and culturally agile, an SP Jain student is empowered with the skills and confidence to drive decisions and take on the global challenges of the 21st century.
Global MBA
Top management positions increasingly go to global citizens – people who have lived overseas, and, therefore, understand many business cultures. Get this edge with the SP Jain Global MBA (GMBA) program where every student lives in Dubai, Singapore, and Sydney – each a regional capital and a great backdrop for business education. Designed exclusively for professionals with 3+ years of work experience, the 12-month GMBA is an internationally-recognized program with a reputation that is built on superior standards of teaching, research, innovation, and graduate outcomes.
Checkout: Top colleges for MBA in Finance
Decision-making in a global context is at the heart of the Global MBA program. While the program is rooted deeply in business fundamentals, a lot of emphasis is placed on practice and application. The classroom itself transforms into a corporate boardroom and from day one, students participate in Student Board Rooms and Simulations where business case studies are examined and a tried-and-tested approach to decision-making is developed.
Overview:
12-month full-time MBA

Study in Dubai, Sydney, and Singapore

For candidates with 3+ years of work experience
Master of Global Business
Immerse in new cultures, step out of your comfort zone, develop cross-cultural understanding, gain real-world experience and engage with some of the world's top companies with SP Jain's Master of Global Business (MGB) program. Designed exclusively for graduates with 0-3 years of work experience, this Master's program trains students to appreciate and adapt to different business environments, cultures, and markets, preparing them for a lifetime of decision-making and leadership.
The program structure includes 12 months of academic study followed by a mandatory 4-month internship. The internship is very important as it offers students, with very little or no experience, the opportunity to address their skills gap, supplement academic accomplishments with actual real-life experience, make meaningful contributions to companies, build strong professional contacts and explore full-time career opportunities.
Also read: MBA Exam Calendar
Overview:
16-month full-time Master's (includes a mandatory 4-month internship)

Study in Dubai, Sydney, and Singapore

For candidates with 0-3 years of work experience
Institute of Management Technology (IMT), set up in 1980, is a pioneer in offering top class management education in the private sector in India. Its management programs are grounded on the belief that managerial competencies must be married to technology to ensure most impactful management practices. The programs are profiled appropriately with the evolving skill needs of the business world, contemporary, also for future, in order to remain relevant to the ever changing world. Having smart campuses with ultra-modern academic facilities, deep corporate engagement, intensive international connect, faculty with very rich experience in industry and academics, vibrant campus life ensuring a holistic approach in grooming the students for the challenging career, enabling academic environment make IMT an irresistible destination for budding business leaders.
The PGDM – Dual Country Program (DCP) by the IMT group of institutions is a multi- country program offered by the IMT Group of institutions. Over the last decade, DCP has emerged as a front runner among similar program offered in India. GDM – DCP is intended to address the limitations of the conventional programs, by infusing international elements into the core of the Program. As the name itself signifies, the aspirants of the program spend a year each in two countries, namely India and UAE, with 3 terms each spent at the IMT Campuses in Ghaziabad and Dubai. The focus of the program is to mould the students for international careers, done though a steady mix of customized course content, course delivery by international faculty, short term and long term projects, and a prolonged and sustained exposure to a multi-cultural business environment in Dubai. The customized program design provides the DCP students a holistic international perspective and the specialized skillsets necessary to excel in in a global career.
International Relations Centre (IRC), IMT Ghaziabad, is an accomplished hub of academic and research activity that serves as IMT's window to the world. IMT's research and education strive to positively influence and contribute to both business and societal development. IRC takes pride in facilitating the same through constant endeavors to strengthen IMT's foundation on the global front.
IRC is the custodian for identifying, developing, and maintaining global partnerships at IMT. In the last few years, we are proud to have fostered long-term relationships with more than 50 partners spanning the globe. IRC supports global business education by providing its students' opportunities to understand the world's best business practices and develop a sound cross-cultural sensitivity through the exchange of students, faculty and staff, international immersion programs, short term programs and foreign language courses. We strive to develop and expand global training programs, internationally collaborative research particularly in emerging markets, provide professional and consulting services. In this way we aspire to not only create future responsible managers but also contribute to the growth of industry, government, regional, and international institutions.
Woxsen University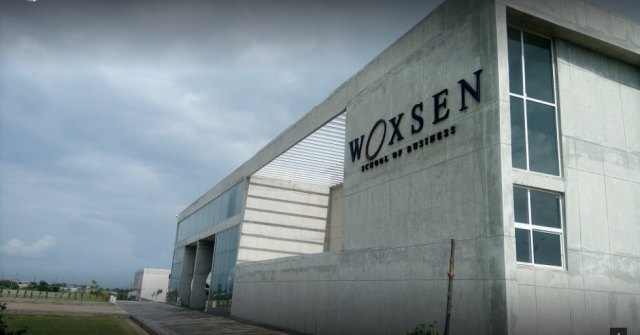 The MBA program has been designed to equip students with the knowledge and skills required to successfully compete in a dynamic world. Starting with the fundamental concepts of business, the program enables students to appreciate the application of theory in practice through case studies, simulation exercises, an internship project, and other fascinating modes of learning.
Of the six terms in the program, the initial three terms focus on introducing and building students' capabilities in general business areas – economics, quantitative techniques, finance, marketing, operations, and strategy. The courses covered in the first year are common for all students.
Students then participate in an internship project, working at a business firm for about ten weeks. This experience is invaluable in linking the theory learned so far with the real world of business. Typical internship projects involve improving the process performance at a factory, assisting in the launch of a new product, reducing supply chain costs, and designing a reporting system for the firm.
Business Specialisations
During terms 4 to 6, the curriculum has a mix of core and elective courses across three disciplines. Students are required to select their area of specialization at the beginning of the second academic year from the following:
– Marketing
– Finance
– Operations
– HR
This program exposes students to how business is conducted in a global setting through interaction with Business leaders, industry experts & academicians. This is an invaluable learning experience that will stand students in good stead throughout their long careers.
The curriculum has been designed by a panel of academicians and professionals from the industry who have ensured that the selection of courses in the program and content of each course matches the current and future requirements of the Indian and global economy. At the end of the program, students will be well-prepared to take on the challenges of the ever-increasing complexity of the business world.
Apart from management programs, the college also offers an excellent Bachelor of Commerce (Hons.)  covering the entire spectrum of commerce specializations. This program is designed to provide students with a multi-disciplinary perspective towards trade, commerce, accounting & finance. Every element of the curriculum is carefully curated with inputs from industry professionals. Real-time projects and assignments that have immense applications in real-world industry scenarios, help you fast-track your career effortlessly.
Jagdish Sheth School of Management-JAGSOM (Formerly known as IFIM)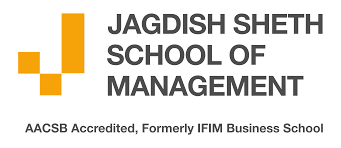 The Jagdish Sheth School of Management (Formerly IFIM Business School) is a business school in Electronic City, one of India's largest industrial parks in Bangalore.
It is an AICTE approved institution with an ISO 9001:2008 certification. The school is accredited by NAAC 'A' grade, Association to Advance Collegiate Schools of Business (AACSB) and SAQS (South Asian Quality Assurance System). JAGSOM's programmes have also been approved by the Distance Education Bureau, a department of the University Grants Commission (UGC) to offer its programs in distance mode. The PGDM Finance is recognised by the CFA Institute under its University Recognition Programme. The institute offers PGDM, Executive, PhD in the discipline of Finance, International Business and Management Development Program. JAGSOM has been ranked no. 26 in India amongst Best Business Schools by Business India magazine and has won Education World 'Higher Education' Awards.
BITSoM is a new-age business school offering industry-immersive business education for tomorrow's leaders in the heart of the business capital of India, Mumbai. BITSoM is a first-of-its-kind institute nurtured by BITS Pilani, an Institution of Eminence. It offers a two-year residential MBA degree in which distinguished leaders from different walks of life have designed immersive and future-ready programs for the changemakers of tomorrow. It has also signed Memorandums of Understandings(MoUs) with top of the funnel such Global B-Schools as London Business School.
BITSoM accepts CAT, GMAT, or GRE scores for its MBA program.
Jindal Global Business School 
Jindal Global Business School is the leading Business School in India renowned for premier education in business management with transformation being our overall aim
JGBS offers a multidisciplinary global business education to foster academic excellence through industry partnerships and global collaborations. JGBS seeks to make an impact through its various degree programs, executive education, research and consulting. It promotes global courses and curriculum, global research and collaborations, and global programmes and interaction through a global faculty.
ISBR Bangalore – International School Of Business & Research
The PGDM curriculum is set apart by three distinct dimensions: Extensive corporate interface; unlimited knowledge access and an unwavering focus on the future. The PGDM program offered by one of the top PGDM colleges in Bangalore is very unique not only in its contents but also in its delivery.
They have 180+ companies coming on the campus and more than 91% of students getting placed.
Some Advantages:
Study abroad option available with International partnering universities
Dual Specializations to make student multi-industry ready
Electives taught by eminent faculty from Industry
Range of inspirational speakers from around the world
Exclusively designed course content at par with top international business schools
Case Studies, Live Projects, Movie Analysis, Fests participation, Foreign language course, International conference all and much more
This program is embedded in a learning community characterized by a strong research tradition and high quality professional teaching
Programmed to inculcate Innovation, Ethical Values & Nurture Holistic development
Smart student cohorts
ISME – Bangalore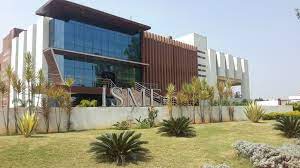 ISME is an institution that focuses on attaining global standards in education; providing quality inputs and academic excellence. Our rigorous curriculum is dynamic with continual changes thus reflecting the changes in the global business environment. Our faculty is drawn from some of the top U.S. and Indian schools and the industry, providing outstanding pedagogical inputs. Our school prides in the fact that we provide personalized attention and a liberal learning environment to the student, to bring up the next generation of confident, nimble, and ethical management graduates. ISME aspires to groom its students into global business managers. A well-laid down vision by the advisory board of directors will help ISME realize its vision. Our world-class infrastructure, an open and warm learning environment is an embodiment of the spirit of excellence that ISME aspires to achieve.
Amity University, Mumbai, Panvel
Amity University, Mumbai is a State Private University established under the Government of Maharashtra Act No. XIII of 2014 and is recognized as per Section 2(f) of the UGC Act.  Amity University, Mumbai has been established by the Maharashtra Govt. The act of 2014 of the Government of Maharashtra. AUM is a private university established by the Ritnand Balved Education Foundation (RBEF), New Delhi which is a society registered under the Societies Registration Act, 1860. Amity University, Mumbai is a core part of Amity, one of the leading educational groups of India. Amity University Mumbai is being built on a foundation that embodies all the qualities that have made Amity Institutions world-class over the last two decades. Core faculty is part of the Amity group's 4000 strong distinguished academicians and domain experts besides leading corporate professionals with rich industry experience. Amity students had an interaction with over 1500 CEOs and over 50 global gurus like Steven Covey and Philip Kotler. Placements are average. It depends upon the capability of the person also to get a good package. The highest package is 14 Lacs and the lowest is 3 to 4 Lacs. Internship companies also come but they are not good. Companies like Amazon, Deloitte, Vodafone, ICICI bank come.
 Course duration: Full time 2 years
Fees: (INR) 7.44 Lakh
Shailesh J. Mehta School of Management, Powai, Mumbai- IIT Bombay
Shailesh J. Mehta School of Management (popularly known as SJMSOM or simply SOM) is a public business school and part of the Indian Institute of Technology Bombay. SJMSOM was established in 1995. In 2000, the school was renamed to Shailesh J. Mehta School of Management, in honor of Dr. Shailesh J. Mehta. The director of the school is S. Bhargava. G.K. Adil, Karuna Jain, Anand Patwardhan, and Mangesh Korgaonkar preceded Bhargava as the directors of the school. Executive MBA is a joint-venture program offered in partnership between Shailesh J. Mehta School of Management (SJMSOM) at the IIT Bombay & Olin Business School at Washington University in St. Louis. The program is the only one in the world to confer a degree from both an Indian and an American university. The final two program modules are taught at Olin Business School's Charles F. Knight Executive Education & Conference Centre on the Washington University campus in St. Louis. Candidates must have a bachelor's degree or equivalent from an institution of higher education. Candidates must be proficient in spoken and written English and computer skills. Candidates must have a minimum of seven years' work experience (after completing the qualifying degree) including five years' managerial experience or equivalent. Candidates must be recommended by their employer with a commitment of employer sponsorship, or self-employed with an ability to pay applicable tuition and fees. Proficiency in English as measured by admission interview performance and/or valid TOEFL/IELTS scores. Optional TOEFL/IELTS scores may be emailed with other supporting documents to the program office. Most candidates are not required to submit CAT, GMAT, or GRE scores. Exceptions are made for individuals who need to demonstrate mastery of necessary quantitative skills.
Course duration: Full time 2 years
Also read: Things to do before the MBA
Universal Business School
Universal Business School was established as part of the Strive India Education Foundation in February 2009. Universal Business School (UBS) takes a leap forward, by creating India's first Green Business School ensuring eco-smart integrated thinking and a sustainable campus. The idea of establishing a world-class business school in Mumbai was born in 2008. The Business School is founded by International Business Leaders who have business experience in all five continents and have managed multi-billion-dollar global businesses. They have built a unique experiential-based learning pedagogy for international Business Executives. UBS provides full time and part-time Graduate and Post Graduate programs in Management along with Executive Management Development courses. UBS through its subsidiary Business Scorecard India will provide Training and Consultancy Services to leading Indian and Multinational companies and will act as a premier resource for Organisation Building, Business Growth, Customer Delight, and Employee Development. UBS has been founded on two principal pillars of Ethical practices and Environment sensitivity. The Founders believe that enduring corporate success can be achieved, by high performing organizations, which adhere to ethical principles in business life.
Course duration: Full time 2 years
Fees: (INR) 8.48 Lakh
MAT (550 marks)
Athena School of Management
Recently the college has been given an award of excellence for upcoming top B-Schools in Mumbai by Indian Education Awards 2017. It has been ranked as 6th emerging B-School in India by Times B-school ranking. Ranked as 3rd top emerging B-school in West Zone of India by Times B-school ranking. The college holds a record of 100% placement with 85%-90% of guaranteed ROI. Already placed with ICICI securities with a CTC of 7 LPA (fresher). The B-School has lots of opportunities for each individual, multiple internships in top companies with top profiles, a lot of corporate connect activities, pre-placement offers during internships, international exposure as an extra certification course, and internships with world's leading companies, top executives as faculty members. The focus is more on providing as much as industry exposure that they can and developing your personality as a professional. Trust me, after two years of the course from a fresh graduate, you'll become a professional leader. The intake of students is just 3540 and the college provides 100% placement. To name a few companies which come for placements and internships are Ginger Hotels TATA, Aditya Birla Group, Edelweiss, Capital First, Anand Rathi, Vodafone, Tress Vista, ITC, HUL, Accenture, H&R Block, Kotak, HDFC, etc. I'll mention the packages which are common for all the specializations (marketing, finance, HR, IT, and operations) and not just about one. The previous batch had an average CTC of 5-6 LPA (fresher). And the current ongoing average is 7-8 LPA (fresher). For fee structure and PI round, you can contact the college.
Course duration: Full time 2 years
Fees: (INR) 12 Lakh
Also read: CAT vs CET
N. L. Dalmia Institute of Management Studies and Research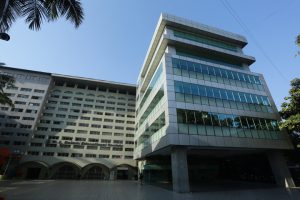 N.L. Dalmia Institute of Management Studies and Research (NLDIMSR)is a business school situated in Mira Road, Mumbai, Maharashtra. It was formed under the aegis of the N. L. Dalmia Educational Society, founded by late Shri Niranjanlal Dalmia. Established in 1995, N. L. Dalmia commenced its academic program in July 1997, offering the Master's in Management Studies (MMS), a two-year full-time course affiliated to the University of Mumbai, the Post Graduate Diploma in Business Management, a three-year part-time course approved by AICTE which is available in both full-time and part-time presentations. The Institute provides specialization in areas such as Finance, Marketing, Human Resources, and Business Systems, and special extra credit courses including FMI, Wealth Management, ERP, and Software Engineering. This is a one plus one MBA program where a student completes 1st year (11 months) at NLDIMSR and the 2nd year at the University of Wisconsin Parkside (UW-Parkside), USA. Since 1968, the University of Wisconsin-Parkside has been enriching minds and changing the lives of those who attend. Its idyllic campus is set on 700 acres of natural Wisconsin prairie and woodland. Parkside is accredited by The Higher Learning Commission, (HLC) a commission of the North Central Association. The College of Business, Economics, and Computing is accredited by the Association to Advance Collegiate Schools of Business-International (AACSB). TOEFL, GRE, GMAT examination score is not required. One can avail of an international scholarship with a minimum US equivalent GPA of 3.0 on a scale of 4.0. Association to Advance Collegiate Schools of Business (AACSB) Higher Learning Commission. A candidate must have passed a Three Years Bachelor's degree examination as per university rule from any UGC recognized University with preferably 50% at the time of graduation. The candidate has to appear for any of the seven entrance examinations: CAT/XAT/CMAT/CET/MAT/ATMA/ NL Dalmia Aptitude Test. The institute performs PI sessions as well as document verification of academic qualifications from school to graduation.
Course duration: Full time 2 years
Fees: (INR) 9.30 Lakh
Exams Required (Cut-off)
Thakur Institute of Management Studies & Research (TIMSR)
TIMSR is committed to providing excellent management education with a special focus on ethical leadership and innovative entrepreneurship. TIMSR, an ISO 9001:2015 accredited institution with world-class infrastructure and the best academic resources, is all set to create a new benchmark in management education. I congratulate you all for daring to dream big and assure you that TIMSR will strengthen your dreams to take a leap forward in the glorious future of India and your personal career. "Global Immersion Programme to Singapore was organized for TIMSR students from 11th December to 17th December 2017 in association with James Cook University, Australia at their Singapore campus. Students attended training sessions for three days at James Cook University (JCU), Singapore campus. The students received certificates of participation from JCU, Singapore. They also visited Universal Studios, Sentosa Island, Mustafa Market, Little India, Marina Bay Sands, and other places of interest in Singapore as part of the program."
Course duration: Full time 2 years
Fees: (INR) 8.50 Lakh
---
Also read: MBA-CET: A Mini encyclopedia